$30.00
NZD
Category: Science Fiction/Fantasy | Series: Chosen Ones Ser.
SAVING THE WORLD ONCE MADE THEM HEROES. SAVING IT AGAIN MIGHT DESTROY THEM. Fifteen years ago, five ordinary teenagers were singled out by a prophecy to take down an impossibly powerful entity wreaking havoc across North America. He was known as the Dark One, and his weapon of choice - catastrophic even ts known as Drains - leveled cities and claimed thousands of lives. The Chosen Ones, as the teens were known, gave everything they had to defeat him. After the Dark One fell, the world went back to normal . . . for everyone but them. After all, what do you do when you're the most famous people on Earth, your only education was in magical destruction, and your purpose in life is now fulfilled? Of all the five, Sloane has had the hardest time adjusting. Everyone else blames the PTSD - and her huge attitude problem - but really, she's hiding secrets from everyone . . . secrets that keep her tied to the past and alienate her from the only four people in the world who understand her. On the tenth anniversary of the Dark One's defeat, something unthinkable happens: one of the Chosen Ones dies. When the others gather for the funeral, they discover the Dark One's ultimate goal was much bigger than they, the government, or even prophecy could have foretold - bigger than the world itself. And this time, fighting back might take more than Sloane has to give.   ...Show more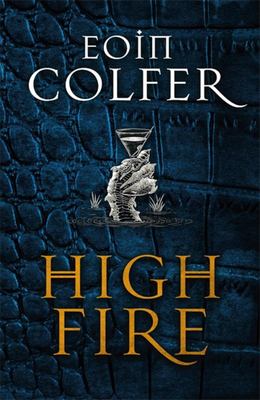 $35.00
NZD
Category: Science Fiction/Fantasy
From the internationally bestselling author of the Artemis Fowl series: Eoin Colfer's first adult fantasy novel is a hilarious, high-octane adventure about a vodka-drinking, Flashdance-loving dragon who's been hiding out from the world - and potential torch-carrying mobs - in a Louisiana bayou . . . unt il his peaceful world's turned upside down by a well-intentioned but wild Cajun tearaway and the crooked (and heavily armed) law officer who wants him dead. Squib Moreau may be swamp-wild, but his intentions are (generally) good: he really wants to be a supportive son to his hard-working momma Elodie. But sometimes life gets in the way - like when Fake Daddy walked out on them leaving a ton of debt, or when crooked Constable Regence Hooke got to thinking pretty Elodie Moreau was just the gal for him . . . An apprenticeship with the local moonshine runner, servicing the bayou, looks like the only way to pay off the family debts and maybe get Squib and his momma a place in town, far from Constable Hooke's unwanted courtship and Fake Daddy's reputation. Unfortunately for Squib, Hooke has his own eye on that very same stretch of bayou - and neither of them have taken into account the fire-breathing dragon hiding out in the Louisiana swamp . . . For Squib Moreau, Regence Hooke and Vern, aka Lord Highfire of Highfire Eyrie, life is never going to be the same again. Highfire is a genre-bending tour-de-force of comedy and action by the million-copy-selling master storyteller. ...Show more
$25.00
NZD
Category: Science Fiction/Fantasy
A sweeping tale of revolution and wonder in a world not quite like our own, A Declaration of the Rights of Magicians is a genre-defying story of magic, war, and the struggle for freedom in the early modern world.   It is the Age of Enlightenment, of new and magical political movements, from the necr omancer Robespierre calling for revolution in France, to the weather mage Toussaint L'Ouverture leading the slaves of Haiti in their fight for freedom, to the bold new Prime Minister William Pitt weighing the legalization of magic amongst commoners in Britain and abolition throughout its colonies overseas.   But amidst all of the upheaval of the early modern world, there is an unknown force inciting all of human civilization into violent conflict. And it will require the combined efforts of revolutionaries, magicians, and abolitionists to unmask this hidden enemy before the whole world falls to darkness and chaos.   For more from H. G. Parry, check out The Unlikely Escape of Uriah Heep. ...Show more
$35.00
NZD
Category: Science Fiction/Fantasy
Don't Panic! Collected together in the Hitchhiker's Guide Trilogy are the five titles that comprise Douglas Adams' wildly popular and wholly remarkable comedy science fiction series, with a special introduction from the author. The Hitchhiker's Guide to the Galaxy: One Thursday lunchtime the Earth ge ts unexpectedly demolished to make way for a new hyperspace bypass. For Arthur Dent, who has only just had his house demolished that morning, this seems already to be rather a lot to cope with. Sadly, however, the weekend has only just begun. The Galaxy may offer a mind-boggling variety of ways to be blown up and/or insulted, but it's very hard to get a cup of tea. The Restaurant at the End of the Universe: When all questions of space, time, matter and the nature of being have been resolved, only one question remains - 'Where shall we have dinner?' The Restaurant at the End of the Universe provides the ultimate gastronomic experience, and for once there is no morning after to worry about. Life, the Universe and Everything: Following a number of stunning catastrophes, Arthur Dent is surprised to find himself living in a hideously miserable cave on prehistoric Earth. However, just as he thinks that things cannot get possibly worse, they suddenly do. An eddy in the space-time continuum lands him, Ford Prefect, and their flying sofa in the middle of the cricket ground at Lord's, just two days before the world is due to be destroyed by the Vogons. Escaping the end of the world for a second time, Arthur, Ford, and their old friend Slartibartfast embark (reluctantly) on a mission to save the whole galaxy from fanatical robots. Not bad for a man in his dressing gown... So Long, and Thanks for All the Fish: There is a knack to flying. The knack lies in learning how to throw yourself at the ground and miss. It's not an easy thing to do, and Arthur Dent thinks he's the only human who's been able to master this nifty little trick - until he meets Fenchurch, the woman of his dreams. Fenchurch once realised how the world could be made a good and happy place. Unfortunately, she's forgotten. Convinced that the secret lies within God's Final Message to His Creation, they go in search of it. And, in a dramatic break with tradition, actually find it... Mostly Harmless: Arthur Dent has settled down on the small planet Lamuella and has embraced his role as a Sandwich Maker. However, his plans for a quiet life are thrown awry by the unexpected arrival of his daughter. There's nothing worse than a frustrated teenager with a copy of the Hitchhiker's Guide to the Galaxy in their hands. When she runs away, Arthur goes after her determined to save her from the horrors of the universe. After all - he's encountered most of them before... Share and enjoy Douglas Adams' mega-selling trilogy in five parts - now in one handy paperback volume - charting the whole of Arthur Dent's hilariously strange odyssey through space and time. ...Show more
$20.00
NZD
Category: Science Fiction/Fantasy | Series: Last Dragonslayer
In the good old days, magic was powerful, unregulated by government, and even the largest spell could be woven without filling in magic release form B1-7g. Then the magic started fading away. Fifteen-year-old Jennifer Strange runs Kazam, an employment agency for soothsayers and sorcerers. But work is drying up. Drain cleaner is cheaper than a spell, and even magic carpets are reduced to pizza delivery. So it's a surprise when the visions start. Not only do they predict the death of the Last Dragon at the hands of a dragonslayer, they also point to Jennifer, and say something is coming. Big Magic . . . ...Show more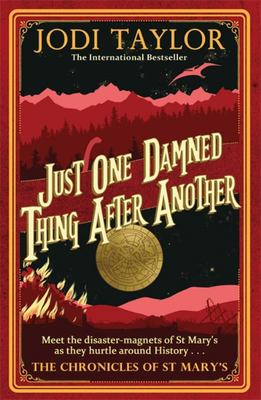 $25.00
NZD
Category: Science Fiction/Fantasy | Series: Chronicles of St Mary's Ser.
The first book in the bestselling Chronicles of St Mary's series which follows a group of tea-soaked disaster magnets as they hurtle their way around History. If you love Jasper Fforde or Ben Aaronovitch, you won't be able to resist Jodi Taylor. Time Travel meets History in this explosive bestselling a dventure series. 'So tell me, Dr Maxwell, if the whole of History lay before you ... where would you go? What would you like to witness?' When Madeleine Maxwell is recruited by the St Mary's Institute of Historical Research, she discovers the historians there don't just study the past - they revisit it. But one wrong move and History will fight back - to the death. And she soon discovers it's not just History she's fighting... Readers love Jodi Taylor: 'Once in a while, I discover an author who changes everything... Jodi Taylor and her protagonista Madeleine "Max" Maxwell have seduced me' 'A great mix of British proper-ness and humour with a large dollop of historical fun' 'Addictive. I wish St Mary's was real and I was a part of it' 'Jodi Taylor has an imagination that gets me completely hooked' 'A tour de force' ...Show more
$28.00
NZD
Category: Science Fiction/Fantasy
Hundreds of years in the future, after the Something that Happened, the world is an alarmingly different place. Life is lived according to The Rulebook and social hierarchy is determined by your perception of colour. Eddie Russett is an above average Red who dreams of moving up the ladder by marriage to Constance Oxblood. Until he is sent to the Outer Fringes where he meets Jane - a lowly Grey with an uncontrollable temper and a desire to see him killed. For Eddie, it's love at first sight. But his infatuation will lead him to discover that all is not as it seems in a world where everything that looks black and white is really shades of grey ...If George Orwell had tripped over a paint pot or Douglas Adams favoured colour swatches instead of towels ...neither of them would have come up with anything as eccentrically brilliant as Shades of Grey. ...Show more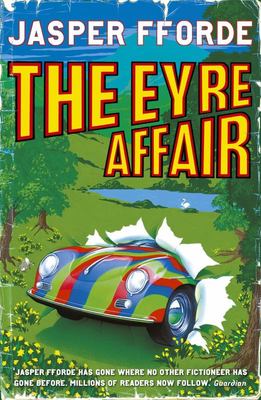 $25.00
NZD
Category: Science Fiction/Fantasy | Series: Thursday Next | Reading Level: General Adult
The first book in the phenomenally successful Thursday Next series, from Number One bestselling author Jasper Fforde. 'Always ridiculous, often hilarious ... blink and you miss a vital narrative leap. There are shades of Douglas Adams, Lewis Carroll, 'Clockwork Orange' and '1984'. And that's just for s tarters' - Time Out Meet Thursday Next, literary detective without equal, fear or boyfriend. There is another 1985, where London's criminal gangs have moved into the lucrative literary market, and Thursday Next is on the trail of the new crime wave's MR Big. Acheron Hades has been kidnapping certain characters from works of fiction and holding them to ransom. Jane Eyre is gone. Missing. Thursday sets out to find a way into the book to repair the damage. But solving crimes against literature isn't easy when you also have to find time to halt the Crimean War, persuade the man you love to marry you, and figure out who really wrote Shakespeare's plays. Perhaps today just isn't going to be Thursday's day. Join her on a truly breathtaking adventure, and find out for yourself. Fiction will never be the same again ... ...Show more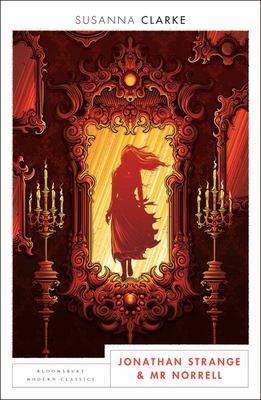 $20.00
NZD
Category: Science Fiction/Fantasy
Two magicians shall appear in England. The first shall fear me; the second shall long to behold me...  The year is 1806. England is beleaguered by the long war with Napoleon, and centuries have passed since practical magicians faded into the nation's past. But scholars of this glorious history discover that one remains- the reclusive Mr Norrell whose displays of magic send a thrill through the country. Proceeding to London, he raises a beautiful woman from the dead and summons an army of ghostly ships to terrify the French. Yet the cautious, fussy Norrell is challenged by the emergence of another magician- the brilliant novice Jonathan Strange. Young, handsome and daring, Strange is the very opposite of Norrell. So begins a dangerous battle between these two great men which overwhelms the one between England and France. And their own obsessions and secret dabblings with the dark arts are going to cause more trouble than they can imagine. ...Show more
$14.00
NZD
Category: Science Fiction/Fantasy | Series: Popular Penguins
The night after a shooting star is seen streaking across the sky, a cylinder is discovered near London. Armed with just a white flag, the locals approach the mysterious object only to be burned alive by heat-rays as horrific, tentacled invaders emerge. Soon, the whole of human civilization is under thre at, as powerful Martians move across the land in massive killing machines, armed with black gas and burning rays. The aliens are determined to win the Earth for themselves. ...Show more
$35.00
NZD
Category: Science Fiction/Fantasy | Series: The\Last Kingdom Ser.
THE FINAL BATTLE AWAITS... The epic conclusion to the globally bestselling historical series, coming October 2020. England is under attack. Chaos reigns. Northumbria, the last kingdom, is threatened by armies from all sides, by land and sea - and only one man stands in their way. Torn between loyalty and sworn oaths, the warrior king Lord Uhtred of Bebbanburg faces his greatest ever battle - and prepares for his ultimate fate... ...Show more
$37.00
NZD
Category: Science Fiction/Fantasy
Children of Men meets The Handmaid's Tale in this "bowstring-taut, visceral, and incredibly timely" thriller about how far a mother will go to protect her son from a hostile world transformed by the absence of men (Cory Doctorow). Most of the men are dead. Three years after the pandemic known as The Ma nfall, governments still hold and life continues -- but a world run by women isn't always a better place. Twelve-year-old Miles is one of the last boys alive, and his mother, Cole, will protect him at all costs. On the run after a horrific act of violence-and pursued by Cole's own ruthless sister, Billie -- all Cole wants is to raise her kid somewhere he won't be preyed on as a reproductive resource or a sex object or a stand-in son. Someplace like home. To get there, Cole and Miles must journey across a changed America in disguise as mother and daughter. From a military base in Seattle to a luxury bunker, from an anarchist commune in Salt Lake City to a roaming cult that's all too ready to see Miles as the answer to their prayers, the two race to stay ahead at every step . . . even as Billie and her sinister crew draw closer. A sharply feminist, high-stakes thriller from award-winning author Lauren Beukes, Afterland brilliantly blends psychological suspense, American noir, and science fiction into an adventure all its own -- and perfect for our times. ...Show more