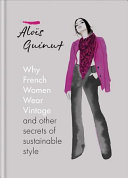 $35.00
NZD
Category: Fashion and Beauty
The French way to an eco-conscious, super-stylish wardrobe from Paris-based style coach Alo s Guinut.Stylish women everywhere are realizing the environmental damage of fast fashion on the planet and looking for new ways to dress that don't involve cramming the wardrobe with clothes that may never get wo rn. As Paris-based style-coach Alo s Guinut explores in this invaulable book, French women have a lot to teach us about how to cherish the planet without sacrificing your style:   - Know what works for you.- Buy less and buy better.- Mix vintage items with a few wisely chosen modern pieces.- Look after what you have and make it last.- Seek out quality fabrics that don't poison the environment. ...Show more
$28.00
NZD
Category: Fashion and Beauty | Series: Little Book of Fashion Ser.
Little Book of Prada explores the evolutions and innovations of the brand, as well as a design ethos informed by an interest in minimalism and contemporary art.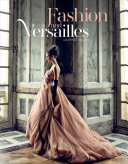 $95.00
NZD
Category: Fashion and Beauty
The Château de Versailles--the indisputable birthplace of fashion--continues to inspire glamour and style today. The royal residence of Versailles--this unparalleled seat of power and seduction--is an important influence on contemporary fashion, inspiring passions and vocations. Since the establishment of the world's first dress codes under the rule of Louis XIV to incite the whims of the queens and royal mistresses, fashion at Versailles has been a constant and inexhaustible source of inspiration for designers, photographers, decorators, and directors and has launched countless fashion revolutions. Courtesan Madame de Montespan launched the "innocente" robe to camouflage pregnancy, Sofia Coppola memorialized Marie-Antoinette in extravagant wigs and pastel hues, and Annie Leibovitz captured Kirsten Dunst in a delicate taffeta-and-chiffon Alexander McQueen gown against the dramatic backdrop of a peristyle at Versailles. Haute couture in the 1950s launched the cinched-waist "neo-trianon" trend. Karl Lagerfeld used the château's gardens as the runway for his 2013 cruise collection featuring Versailles-influenced crinoline dresses and brocade jackets. This stunning volume showcases the best of fashion inspired by Versailles, set against the exquisite background of the most spectacular palace in the world. ...Show more
$110.00
NZD
Category: Fashion and Beauty | Series: Catwalk Ser.
This book gathers together, for the first time, every Dior haute couture collection, including also ready-to-wear collections after the arrival of John Galliano (when ready-to-wear presentations took on a new importance), and the first two collections designed by creative director Maria Grazia Chiuri, a ppointed in 2016. It offers a unique opportunity to chart the development of one of the world's most famous fashion brands and discover rarely seen collections. This definitive publication opens with a concise history of the house of Dior before exploring the collections themselves, which are organized chronologically. Each new 'era' in Dior's history is inaugurated by a brief overview and biography of the new designer, while individual collections are introduced by a short text unveiling their influences and highlights and illustrated with carefully curated catwalk images. A rich reference section, including an extensive index, concludes the book. After Chanel, Dior is the second volume in a series of high-end, cloth-bound books that offer a complete and unrivalled overview of the collections of the world's top fashion houses through original catwalk photography. ...Show more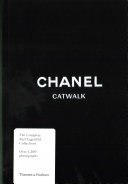 $110.00
NZD
Category: Fashion and Beauty | Series: Catwalk Ser.
Ever since his first show for the house in 1983, Karl Lagerfeld's Chanel collections have consistently made headlines and dictated trends the world over. For the first time, every Chanel collection ever created by Lagerfeld is here gathered in a single volume - a unique opportunity to chart the developm ent of one of the world's most influential fashion brands and discover rarely seen collections. This definitive publication opens with a concise history of the house of Chanel, from the days of Coco Chanel to today, followed by a brief biographical profile of Karl Lagerfeld, before exploring the collections themselves, which are organized chronologically and introduced by a short text unveiling each collection's influences and highlights. Each collection is illustrated with carefully curated catwalk images, showcasing hundreds of spectacular clothes (from evening dresses and day suits to casual and sports pieces), details, accessories (from hats and jewelry to handbags and shoes), beauty looks and set designs - and of course the top fashion models who wore them on the runway, from Claudia Schiffer and Linda Evangelista to Kate Moss and Cara Delevingne. A rich reference section, including an extensive index, concludes the book. A treasure trove of inspiration, this richly illustrated publication will be the must-have reference for all fashion professionals and Chanel obsessives. ...Show more
$100.00
NZD
Category: Fashion and Beauty
The Metropolitan Museum of Art Costume Institute's annual fashion exhibition is the most prestigious of its kind, featuring subjects that both reflect the zeitgeist and contribute to its creation. Each exhibition--from 2005's Chanel to 2011's Alexander McQueen: Savage Beauty and 2012's Schiaparelli and Prada: Impossible Conversations--creates a provocative and engaging narrative drawing hundreds of thousands of visitors. This updated edition includes material from 2015's China: Through the Looking Glass, 2018's Heavenly Bodies: Fashion and the Catholic Imagination (the most visited exhibition in the museum's history), and 2019's Camp: Notes on Fashion. The show's opening-night gala, produced in collaboration with Vogue magazine, is regularly referred to as the party of the year, and draws a glamorous A-list crowd, drawing an unrivaled mix of Hollywood fashion. This updated edition of Vogue and the Metropolitan Museum of Art Costume Institute once again invites you into the stunning spectacle that comes when fashion and art meet at The Met. ...Show more
$40.00
NZD
Category: Overseas Biography
Chosen by Evening Standard as one of the best books to look forward to in 2020. 'a must-read memoir for even those beyond the fashion set.' - Evening Standard Chosen by Stylist as one of 2020's best non-fiction books. 'In the funny and opinionated Clothes... and other things that matter, former Vogue U K editor Alexandra Shulman explores the meaning of clothes and how we wear them. From the little black dress to the white shirt and the bikini, she takes pieces of clothes and examines their role in her own life and the lives of women in general, touching on issues including sexual identity, motherhood, ambition, power and body image.A must-read for anyone, like Miranda Priestly, who knows that clothes might not maketh the woman, but they certainly help.' - Stylist 'Clothes... and other things that matter is a book not only about clothes but about the way we live our lives. From childhood onwards, the way we dress is a result of our personal history. In a mix of memoir, fashion history and social observation I am writing about the person our clothes allows us to be and sometimes the person they turn us into.' - Alexandra Shulman In Clothes... and other things that matter, Alexandra Shulman delves into her own life to look at the emotions, ambitions, expectations and meanings behind the way we dress. From the bra to the bikini, the trench coat to trainers, the slip dress to the suit, she explores their meaning in women's lives and how our wardrobes intersect with the larger world - the career ladder, motherhood, romance, sexual identity, ambition, failure, body image and celebrity. By turns funny, refreshingly self-deprecating and often very moving, this startlingly honest memoir from the ex-Editor of British Vogue will encourage women of all ages to consider what their own clothes mean to them, the life they live in them and the stories they tell.   ...Show more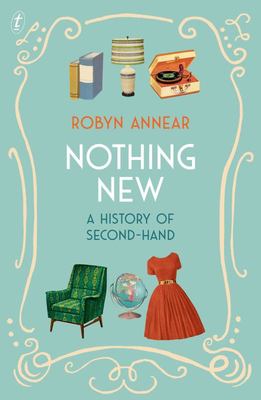 $37.00
NZD
Category: Fashion and Beauty | Reading Level: 6 Home
'Given the way we live now,' writes Robyn Annear, 'it would be easy to suppose that newness has always been venerated.' But as this wonderfully entertaining short history makes clear, modern consumerism is an aberration. Mostly, everyday objects-from cast-off cookware to clothing worn down to rags-have enjoyed long lives and the appreciation of serial owners. Nothing New is itself an emporium- a treasure store of anecdotes and little-known facts that will intrigue and enlighten the devoted bargain-hunter and the dilettante browser alike. ...Show more
$65.00
NZD
Category: Fashion and Beauty | Reading Level: Scholarly/Undergraduate
The book explores five central themes--the suit, the camellia, jewelry, makeup and perfume, the little black dress--and follows the threads from past to present to show how these key items have been rediscovered and reinvented by new designers. It includes many previously unpublished archive photographs and original drawings by Karl Lagerfeld, as well as glorious images from some of the greatest names in fashion photography. ...Show more
$40.00
NZD
Category: Fashion and Beauty
In Kristin's work as a personal stylist, it upset her to learn 90% of the women she worked with didn't like the reflection they saw in the mirror. They started their day, every day, feeling negative about themselves. Women are trying desperately to keep up with the digitally edited women they see in so cial media. Kristin could see first hand the popularity of women desiring help with their dressing, however most women felt booking a personal style session is a luxury not a necessity. A style session should be more accessible to everyday women. Style Sessions aims to change the way women feel about themselves, because happiness and confidence are key. It is important to embrace the best version of yourself and present it to the world every day. ...Show more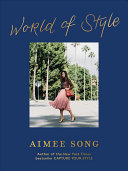 $40.00
NZD
Category: Fashion and Beauty
*From the author of the New York Times bestseller Capture Your Style* Aimee Song is a fashion icon, a sartorial star, the blogger behind Song of Style, and the author of Capture Your Style. Here she collects more than five hundred of her all-time favorite looks from around the world.  Her style, favor ite travel spots, and personal memories from the hottest destinations all over the globe, including: ANGUILLA · ANTWERP · AUSTIN · BALI · BERMUDA · BUSAN · CAPRI · CHICAGO · COSTA RICA · CROATIA · DALLAS · DUBAI · THE FRENCH RIVIERA · THE HAMPTONS · IBIZA · ICELAND · INDIA · JAKARTA · KYOTO · LONDON · LOS ANGELES · LOS CABOS · MAURITIUS · MIAMI · MILAN · MOROCCO · NAYARIT · NEW YORK · PALM SPRINGS · PARIS · THE PHILIPPINES · PHUKET · SEOUL · SICILY · SINGAPORE · SOUTH AFRICA · ST. BARTS · SWITZERLAND · TOKYO · TULUM · VENICE ...Show more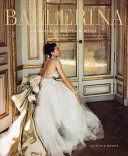 $110.00
NZD
Category: Fashion and Beauty
Ballerina: Fashion's Modern Muse is a revelatory, irresistible treat for dance aficionados and fashionistas alike. Couturiers such as Balmain, Balenciaga, Chanel, Schiaparelli, Charles James, Dior, and Yves Saint Laurent designed ballet-inspired dresses and gowns, many featuring the boned bodices and vo luminous tulle skirts of classical tutus. American ready-to-wear designers such as Claire McCardell found inspiration in ballet leotards and other practice clothing, creating knitted separates, bathing suits, and wrap dresses. Written by fashion and ballet experts, the book is illustrated with archival photography by such masters as Richard Avedon, Edward Steichen, Irving Penn, Man Ray, and Cecil Beaton, along with newly commissioned photography of contemporary ballerinas wearing ballet-influenced couture. Contributors - Patricia Mears, Laura Jacobs, Jane Pritchard, Rosemary Harden, Joel Lobenthal. ...Show more